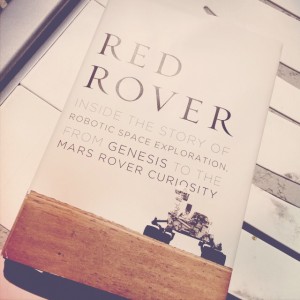 It's a(nother) beautiful sunny day in Southern California, so I spent the morning reading Roger Wiens' Red Rover, an interesting read about his time so far as a scientist in the world of space exploration. Roger is the principal investigator for the ChemCam instrument on Mars Curiosity, our rock zapping laser on the surface of the red planet.
The book is a fairly easy read, with just enough detail into the process and experience to be interesting without overwhelming. The stories range from Genesis over a decade ago to Curiosity, still roving the planet. There's a lot of insight into how science funding, missions, and NASA work, sometimes for the best, sometimes not so much. It's a very personal story of successes and failure. And while I'm very familiar with the Curiosity story, it's also a mission that is so complex with thousands of people working on it, that there were both stories and perspectives that I was not familiar with, making this even more interesting.
Fortunately Roger has taken the time to write his story down for all of us to enjoy.